Michal Govrin
Liliane Klapisch: Etching
The Making of the Sea is a journal, a chronicle. During the journey, which starts on the seashore at Rio-De-Janeiro and ends in Jerusalem, the gaze meets the sights of the road, the sights of the soul and the inner sights of the Hebrew language. Memories, thoughts, and experiences of death and love are exposed in a new light
The "journal" is written in a column at the center of the page and around it, as in the layout of a page in Talmud, interpretations of the central column are arranged. The interpretations are written in different modes of expression that extend from fragments of poetry or thought to quotes from dictionaries or Jewish and European sources. Along the journey and its interpretations, the language itself, with its unique landscapes and its erotic tension, becomes the destination to which the road has been leading.
The structure of the page in The Making of the Sea, a Chronicle of Exegesis traces the movement of the thought from the center to the margins and the process of reading in which the language moves from sound to image and from outdoor to intra-lingual landscapes. The Making of the Sea converses with the multi-voiced page of the Talmud or the multi-commentary Bible (that was originally printed in Venice in the Renaissance) as well as with traditions of art in the twentieth century (Surrealism, Constructivism or Deconstruction) up to the contemporary "windows" on the computer screen.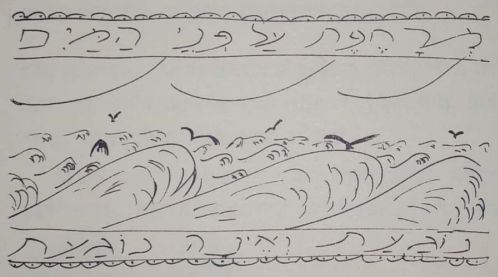 The Making of the Sea, a Chronicle of Exegesis was written in the years 1986-7 as a Hebrew manifest in its form and content. It is a book that asks, "what is a book?" – the linear, evolving, "Western" book, versus the spreading and outburst of the "Jewish" page. It is a Book about the relationship between language and world – about the view of the eye versus the view of language. And about the Hebrew language and its unique appearance of an "archaeological mound."
It is a book about the creative power of speech – speech describes the landscape, utters it, and therefore creates it, in utterance. The lyrical, magical speech, the pronouncing of prayer. It is a book about the Eros at the roots of the language – the mutual passion to appeal, to reach, to penetrate, to receive, and in a constant inversion of sexes. It is a book about reading, which is always a singular, personal and creative combination. An act of creation that invites the reader to take part.
A series of original copper etchings by Lilian Klapisc is interwoven into The Making of the Sea, a Chronicle of Exegesis. The etchings are devoted to interior space – the space of the Jerusalem apartment from which the authoress' journey of writing departs and to which it returns. These are "metonymical portraits" of the writing process: traces left between the piles of books or the writing desks, details of a life or branches appearing from behind a window. Sketched in rapid lines, the etchings stress the tension between the line and the white space of the paper. The etchings parallel the movement of the eye between the different voices on the page and mirror the prose's rapid lists and reflections written off in the course of a journey. The etchings were created with a joint technique of Aquatint [תצריב], soft wax and dry needle, and were printed in "Harel Workshop."